Is it possible to round the bases of the 'big four' professional US sports without moving to the states and applying for a 'Green card'? US sports authority Derek Green leads us on a three week tour de force of bats, balls, pucks and hoops.
Just like us Aussies, Americans take their sports seriously, so seriously in fact, that they have been known to award the title 'World Champions' to their winners, along with a silver trophy the size of a small car. How they must chuckle at the sight of the Ashes.
Although difficult, this challenge is technically possible – the regular season schedules don't quite cross over – but like a solar eclipse, there is a brief moment where all four will slide into alignment. The ideal time to attempt this trip is from mid-October to early November. The north-east coast has the highest density of sports teams, and as New York City provides the easiest access to the region, it is a logical landing point and base. The weather is turning for the worse – snow is not unheard at this time – but with Thanksgiving imminent and Christmas looming, the short days and crisp nights are accompanied by an air of festivity. For the sports nut prepared to buy into the concept of an ultimate US sports odyssey, let's break down the options.
WEEK ONE
Baseball
The first stop is also the trickiest box to tick. The Major League Baseball (MBL) regular season finishes at the end of September, and with the 'post season' well under way by the time our itinerary starts around the second weekend of October, success is somewhat reliant on the teams involved in the playoffs and their location. A popular team or one off the beaten track can spell doom. Tickets to the World Series are tough to obtain, so visitors should aim for one of the two league championship series held prior. With a minimum two home and two away games per team (dead rubbers are not played), it is rare that one of the four participating championship teams is not within easy reach of New York, and tickets, though expensive, are obtainable through means both fair and foul.
Whereas you could be excused for dozing off in the bleachers after a couple of Budweiser's on a warm July afternoon, when the play-offs start, the casual air and Wonder Years feel of 'America's Game' are blowtorched in a high stakes battle of network ratings, eight-figure player contracts and endorsements, stadium deals and intercity bragging rights. Higher television ratings dictate that post season games are almost exclusively held at night, but the smell of cool grass, popcorn, beer, and hot dogs mix with the evening autumn air to create an intoxicating brew.
Introduce yourself to your neighbours; Americans love to explain the game, its rules, the role it plays in their life and the virtues of their team. Before you know it you'll be sharing a beer and a sack of nuts, expertly tossed across 30 rows by a skilled vendor, and yelling "charge" in time with the arena organ.
GAME SUGGESTION: Given the New York Yankees and Boston Red Sox have participated in eight of the last ten National League championship series, the chances are good that you won't have to venture far.
EXPERT TIP: Although more expensive, try for a lower-level seat in the region of first base. Much of the action takes place in this part of the field, and the fans are usually friendly and knowledgeable season-ticket holders.
 WEEK TWO
American Football
"Cricket is a gentleman's game played by gentlemen, rugby is a gentleman's game played by beasts, and American Football is a beast's game played by beasts."
Although this quip appears in various guises and its source is unknown, it has been attributed to everyone from Winston Churchill to Oscar Wilde. Coupled with an apparent lack of rules, this sentiment is evident to the novice viewer, even more so when watching some of the great rivalries of the sport. Few games are contested with the bitterness of the closely matched, (both geographically and on the field) traditionally working-class, 'meat and potato' towns of Cleveland, Pittsburgh, Cincinnati and Baltimore. In these divisional clashes, boos and bottles will swiftly rain on an unsportsmanlike visiting outfit, or during a poor home team performance.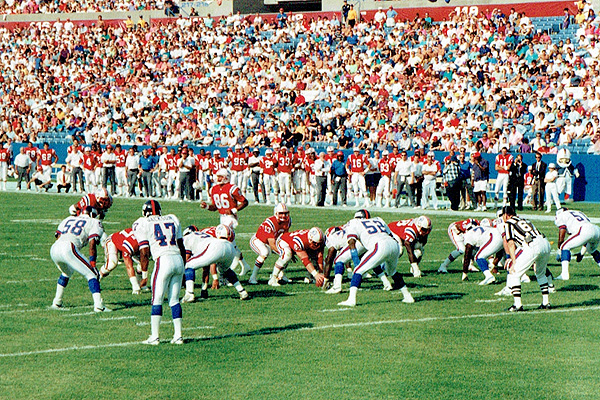 Unlike the other three of the 'big four' professional sports, football is not an everyday event, with the NFL scheduling regular season fixtures on Thursday, Sunday and Monday of each week. By mid-October, all teams are six weeks into their 16 game seasons, and the race for divisional titles and play-off seeds starts to take shape. With so few games played – each city's team will host a mere eight games a year – each becomes an event in itself. Even if you can't stand the sport, the pre-game festivities, stadium rock tunes and general mayhem throughout make for a memorable day.
GAME SUGGESTION: There are five teams within a two or three hour train or bus journey of the Big Apple. For a near guaranteed home team win with plenty of atmosphere and a leafy, scenic round trip, take the option of the New England Patriots at home in Foxboro, Massachusetts. Otherwise New York's two teams, the Jets and Giants, will host matches that are equally entertaining for those who attend, as it is for those who opt to read the savaging handed out by the fickle local media.
EXPERT TIP: The best views are to be had from mid-field or the 'end zone'. Arrive early and mingle with locals in the car park, trying to make friends with some of the many 'tail-gaters' before the game. An Australian accent is a great conversation starter, and before long you'll be eating hot corn cobs and Buffalo wings in-between 'going deep' for a 'Hail Mary' in a parking lot scratch match.
WEEK THREE
Basketball
Madison Square Gardens (MSG). Three words are all you need to tell you where you should be when the New York Knicks campaign starts in this hallowed edifice. Giant banners of the team's current stars greet you in the foyer, and the smell of nacho cheese and grilled sausage hangs in the air like a mid-town fog. Tickets at MSG are expensive, and the upper level fans are boisterous, bordering on boorish, which is surprising given that this is possibly the least physical of the pro sports. The excitement factor is high early in the season, making for a true adventure as you delve into the psyche of hard core Manhattan sports fans.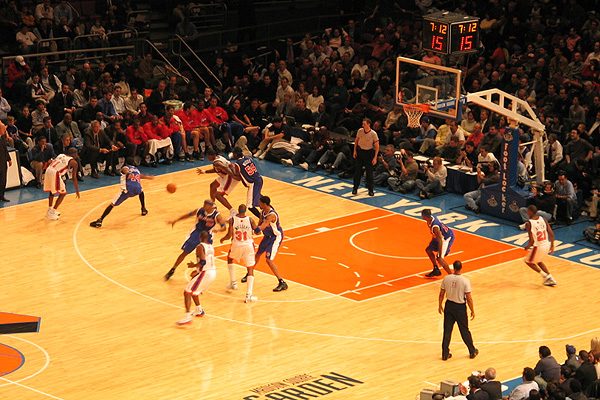 GAME SUGGESTION: With the recent relocation of the New Jersey Nets to nearby Brooklyn, the Knicks are no longer the only New York team. This rivalry can only get hotter.
EXPERT TIP: If you can get your hands on a pair of binoculars, apart from a better perspective of the game, you'll have the chance to spy some of the celebrities who have the cash to splash on courtside 'Celebrity Row' seats, including regulars Spike Lee, Ben Stiller, Woody Allen, Whoopi Goldberg and Chris Rock.
Hockey
Speaking of hard core, this week also marks the start of hockey season. There are three teams in the New York area; the Rangers, Islanders, and Devils, with games played at Madison Square Gardens, in Brooklyn, Queens, and over in Newark, New Jersey. As you might expect, the crowd can be rowdy, and will hurl abuse at players, referees and opposition fans with little provocation – it's hard not to get caught up in the emotion as spot fires break out on and off the field. The game moves quickly, and only the trained eye finds it easy to follow, particularly from the upper deck. Try to focus on the puck as it shoots across the ice, ignoring the players, unless they are involved in one of the inevitable (and occasionally brutal) scuffles the game is famous for.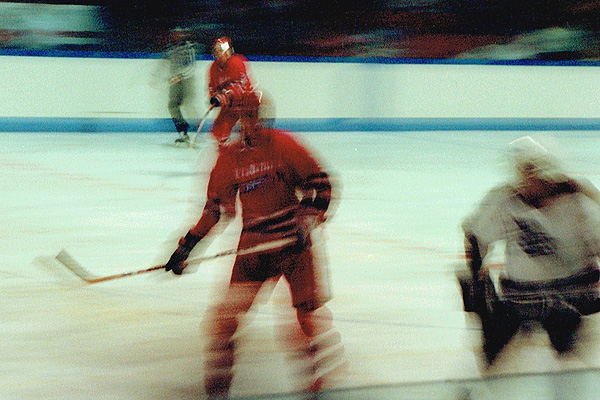 GAME SUGGESTION: Once again, MSG is a great venue to watch this sport, and the three New York area teams play each other often, each leaving nothing out on the ice. Likewise games featuring teams visiting from Philadelphia, Boston or Pittsburgh pack enough heat to melt the ice. If you decide to travel further afield, the animosity between fierce foes Boston and Montreal or Detroit and Chicago rarely remains subdued.
EXPERT TIP: Early November in New York is already quite chilly, but with all that ice, you will need additional layers to keep yourself snug.
TRIP NOTES
SPORT EVENT TICKETS
There are three ways to obtain tickets for a sports event; direct from the team or venue, from a ticket re-seller website, or if you're desperate (although not recommended), from a scalper outside the stadium before the game. StubHub, SeatGeek and TicketExchange all sell returned or unwanted game tickets online which are then either posted to you or can be printed if you have access to a printer.
STAYING THERE
While Brooklyn offers cheaper accommodation options, nothing beats waking up each morning to the bustle of Manhattan. The Windsor Hotel, Pod 51 and Chelsea Lodge consistently rate well in the $200-300 per night price range.
GETTING AROUND
Train is an affordable, convenient way to branch out into Philadelphia, Washington, Baltimore, and Boston – all within three hours – but beyond that, a hire car is advisable. Hertz, Avis, and Enterprise all have offices in Manhattan. The subway is cheap and easy for journeys across the city and its boroughs, and yellow cabs are still a thrill for short trips.
SPORTS GEAR
To get hooked up with the latest apparel, try the official NBA (590 Fifth Ave) or NHL (1185 Avenue of the Americas) stores. For NFL or MBL merchandise, Modell's or Sports Authority are found in multiple locations and carry most teams and sports.