Standing with our backs to the warm rock of Uluru, we see the outline of Kata Tjuta on the not-too-distant horizon. With the earth being so flat and the dark shapes so huge, they seem a mere stones throw away. There's still an hour until sundown, so we jump in our hideously expensive compact rental and speed towards that "other" famous rock formation.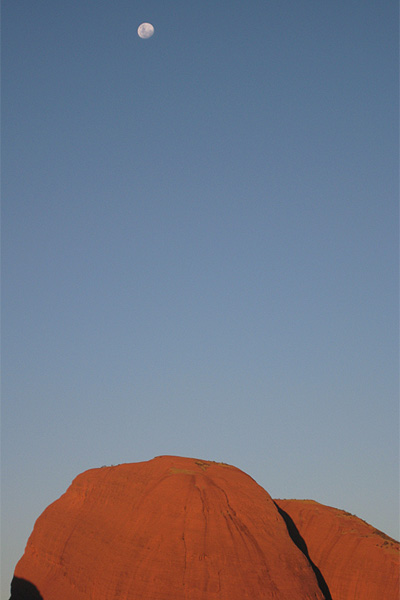 I always thought my first blog about Australia's Red Centre would be about the World Heritage listed Uluru. That would have been the conventional route – a clichéd title like "Between a rock and … another rock" and some musings about how the place changes colour at different times of the day. For the time being I'll leave that to the advertorials in the various weekend "Traveller" lift outs, and tell you about the other pretty impressive rocks nearby.
Our car reluctantly hits the speed limit after a couple of minutes, and we hurtle toward sun and rock at 110kmh. The sun is dropping like a stone now, yet after half an hour we seem to have gained no ground at all.
We somehow coax our little champion of Korean engineering past beat up combi's and tour buses, all engaged in their own desperate race against time. We're going so fast now that the signs become blurred – "Kata Tjuta: 27kms", "Kata Tjuta: 21kms", "Kata Tjuta: 17kms", and marvel at how something that looks close enough to touch can still be so distant.
Finally we pull into the car park, and negotiate our way into a snug space between a "Wicked" van emblazoned with artwork depicting the Simpsons characters in Kiss make-up, and a sparkling Britz Maui camper. I hear a "schnell" here and a "spicciare" there and guess we will be caught up in an international rush for viewing spots.
In a flash we find a great little position, and watch as the sun gradually turns Kata Tjuta into a series of coloured shapes, alternating to the tune of a German backpacker eating rice from a pot (scrape… scrape… scrape). The (near) silence, dry air and beauty of the desert's colours brings us closer to the earth and its child, nature.
The rocks are dark now, and we head quietly back to the car, each of us lost in our own thoughts, our hearts warmed by what we've witnessed.
We'll need to be careful on the drive back to our hotel, the road is dark and there's no street lights out here. There's a scary moment as I hear a metallic noise as we back out of our space, thankfully its our backpacking friend searching for that last elusive grain of rice.
Scrape… scrape… scrape.
Danke für die Erinnerungen (thanks for the memories).