Kids of a certain age think they know everything. Come to think of it, adults of all ages think they know everything, myself included. It is a good thing then, for both your child's development and the general good natured dynamics of the household, to just stop, listen and go with their idea every once in a while.
I've learned over time that the fastest and simplest way to have a different experience is to let someone else make a decision for once. It's not always easy to relax and just go with the flow – in fact I really struggle with this concept – but once you get over the initial shock of not being "in control", there is something to be said for seeing life from another's perspective.
Here's a recent example.
When you're away from home, you know hiring a car is going to be expensive. Your choices are limited and you often have to just take whatever's going, especially in a big city like London where its hard enough finding somewhere that hires out cars, let alone getting yourself there. So when your child pipes up that she "wants a convertible – preferably a black one", all you can see by this stage is $ signs through the red mist.
I try seeing it from the kid's point of view. Her uncluttered mind doesn't have the benefit of practical experience and adult logic, nor will she be paying a future credit card bill so fat the posty won't be able to wedge it through our letterbox opening.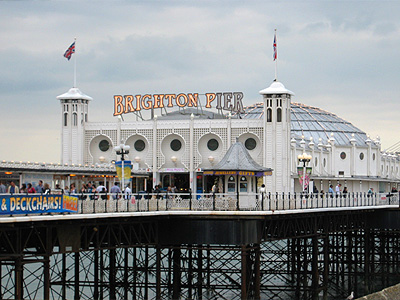 Maybe my controlling ways have wearied me on this trip, or perhaps daughters just have the ability to find and exploit the chinks in a dad's armour. Either way I soon find myself Googling "car hire London convertible preferably black", the convoluted search terms a deliberate ploy to produce zero results and deflect the attack on my authority.
Bingo! My plan backfires as Google directs me to a car hire establishment that meets all our requirements and is located exactly 4.7 miles (7.56kms) away. The quoted cost is double that of a sensible, compact sedan, but the door is now ajar and the whole family is pushing through – there's no way back. Google, you are now on my "list".
Ace Car Rentals, looks anything but, in fact it all looks as dodgy as hell. To their credit, our black convertible Mini Cooper is waiting out the front, and with the paperwork done off we head.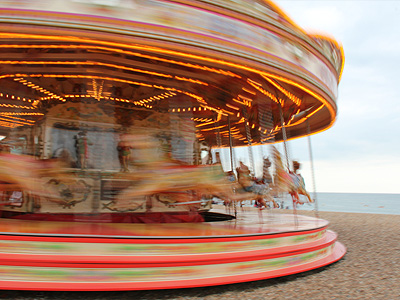 Until you ease yourself down into the seat of a Mini you just don't realise how low to the ground, small and "go carty" they feel. The top slides back with a buzz and within minutes we're zipping in and out of traffic, dodging buses and bikes, following Margaret Thatcher's instructions from our GPS unit. I had always wondered what she'd got up to after politics.
The sea-side towns of Eastbourne and Brighton are our destinations, and as we leave the M-something motorway for winding, hedge-lined country roads, wind in our hair, our big city worries are also left behind.
Our day involves a stroll through a charming green-tinged village, walking stony beaches, the wonders of Brighton's pier and boardwalk, a fabulous traditional pub lunch and chocolate treats at the famous Choccywoccydoodah. Who said chocolate couldn't be a meal?
There's a lesson here for all of us. Children can have good ideas, and it is a valuable, bonding experience exploring them every once in a while.
Would we have done all this if not for our child's simple suggestion? Well, probably.
But it sure wouldn't have been as much fun as it was.