Three down, one to go, then I will started a concerted effort to seriously get everyone onboard to find these people. So join this facebook group now – Who are you – and what the hell are you doing in my photo? The more people that see it and pass it on, the better chance that someone, somewhere can lead us to our four posing strangers.
Posing stranger number 3 – Giza, Egypt , March 1988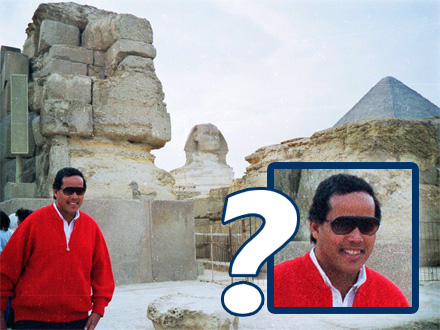 Here we have the ultimate posing stranger. If there's a book on this recently discovered phenomena, this guy wrote it. Or at the very least he would have managed to get his head in a few photos.
Most sites in Egypt are crawling with tourists, and the Sphinx and Great Pyramids of Giza are no exception. I recall waiting an eternity for a nice clear shot at the Sphinx, but our friend in the red sweater just wouldn't budge. In the end he wore me down – my group were about to leave – and I made the ultimate photographic compromise.
Time to find this guy
What do we know about him:
Was definitely visiting Giza, near Cairo, Egypt in March 1988.
Possibly a tourist – too well dressed to be a camel minder or tout, quite possibly visiting the site from Egypt or elsewhere in the region
Appears to be a young man of late teens or early twenties, making him mid-forties now.
This is the hard one I suspect!