With your help we will find these four strangers in my photos – and "liking" this facebook group is a start – Who are you – and what the hell are you doing in my photo? Let's face it, if the facebook group "I'm bored, and a bit of a thicko, so I decided to start this facebook group" can get 100,000 "likes", then we have a chance. Or we're in deep, deep trouble.
Posing stranger number 4 – Paris, France, October 2002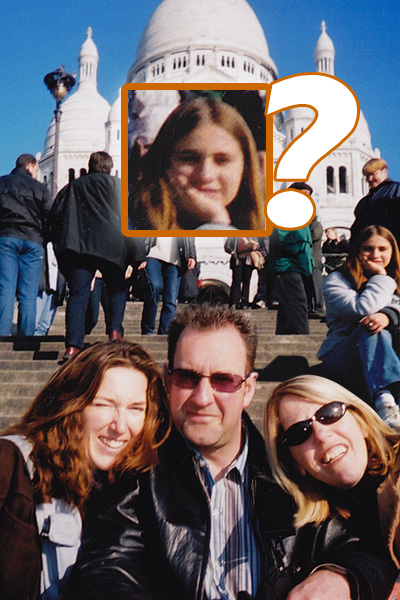 The last of our posing strangers struck in Paris, on the steps of Sacré-Coeur. Yours truly and some loved ones had to squeeze together for this snap, but considering it was taken by a 3 year-old, the outcome was pretty good.
As you can see we weren't the only ones that managed to squeeze into the frame that day. Whether this young lady was seeking immortality in someone else's photo album, or simply found amusement at the sight of a cute toddler trying to keep a camera steady may never be known.
Unless we can find her and ask her!
What do we know about her:
Was definitely at Montmartre mid-October 2002
Most likely a tourist – it was a sunny day in a rainy week and the place was teeming with them
Religious? Not all visitors to Sacré-Coeur are tourists, she may have been on some sort of pilgrimage
Young – mid-late teens. School trip?
That's all four – the task has been set!