As I roll along, carefully winding away from the El Monte RV hire depot, I'm warmed by the sight of "Holy Land" on my left. No, I'm not trying to negotiate the cobblestones of old Jerusalem in a 30 foot recreational vehicle, but I do still consider the open, welcoming arms of the pure white Jesus before me as a good sign as we head up the Atlantic Coast from Florida to New York.
If you hadn't guessed, there's a theme park for everything in Orlando – 471 at last count. And the Holy Land "Experience" isn't even the strangest – Gatorland gets that dubious honour. As if the massive alligator jaw entrance isn't enough of a warning, apparently all activities involve running the so called "gator gauntlet" – feeding the gators, swimming with the gators, gator racing and more. Few visitors survive.
I'm kidding of course, many people survive. Well the fast ones anyway.
Once again my family is putting their trust in a man behind the wheel of a "beast", 4 feet shorter than the "big" beast from our fabulous tour of New England in 2010, so we dub this chariot the "LB" (Little Beast), although in reality, it is still big in every way – big wheels, big turning circle, and a big ol' thirst for gas.
RV rental companies don't like one way rentals, and apart from charging a substantial one way fee, they prefer not to supply you with items such as a GPS, which are often owned by the local franchisee (they also like to insist you pay for additional insurance cover which you don't need). So with my wallet a little lighter, the map in my head and my internal GPS hopefully pointing in the right direction, we make haste towards the historical Spanish fort town of St Augustine, our first stop.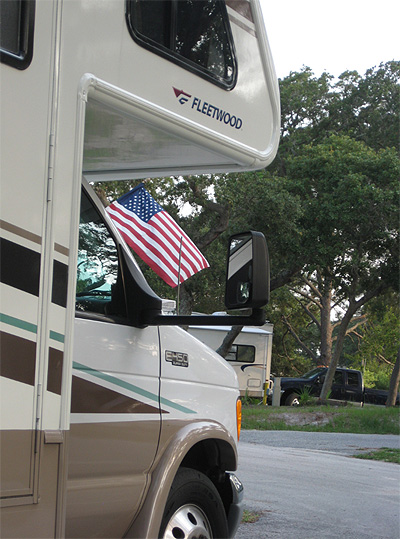 LB (Little Beast) gets a dose of patriotism
It's mighty hot as we pull into our RV campground, and I fear most of our energy might be taken up in cooling off in the pool and becoming familiar with the machinations of LB, rather than exploring the 16th century Castillo and drinking from the world famous Fountain of Youth. My fears turn out to be well founded.
Hitting the road early, we do get the opportunity to complete several scenic laps of old town St Augustine – apparently my internal GPS has failed to wake up with the rest of us! As we approach a familiar "right hand turn only" sign for the third time, I decide to do what everyone has done at some time in their life – it is a fairly quiet Sunday morning after all – and sort of, well kinda break the road rules. Not the only time it will happen on this trip I might add, but more of that later.
With our circuitous tour behind us, and a hot latte (there's another
kind?) and Dunkin' Donuts in front of us, we start the trek to Savannah, Georgia.
I had been counting on the heat gradually easing off as we headed up the coast, but as we set up LB in the scorching sun of an open field in the Red Gate Farm RV and Campground – it's 100 degrees and rising – clearly this theory is flawed.
Strangely there's no greeting, staff or information forthcoming, so we take a taxi to downtown Savannah in search of cooling activities.
With the sun radiating off every surface, and the tar on the roads seemingly melting underfoot, I concede the only enjoyment to be had on a day like today is to be had on a bar stool, with a cool beverage and blast of good ol' southern A/C.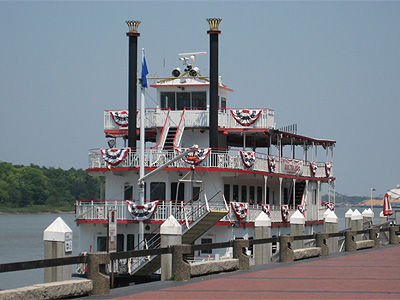 Riverfront, Savannah Georgia  
Savannah's river front offers a selection of establishments that will provide a solution to our needs, and after wandering in and out of a couple of dingy looking taverns, we settle against the cool marble of the bar at the famous Bohemian Hotel. Having sampled beers with names like Blue Moon Harvest and Sweet Water, we adjourn to the restaurant and enjoy some local delicacies – Cornbread, Fried Green Tomatoes, and Shrimp on Grits. Meals like this can seriously go either way, but it thankfully ends well for all.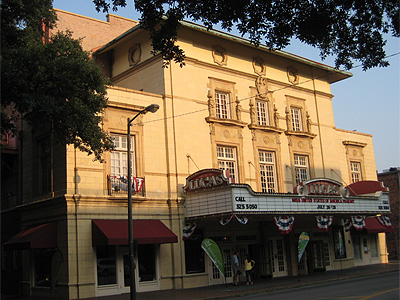 The 90 year old Lucas Theatre in old town Savannah
After a wander around the old town streets at dusk, we grab a taxi back to our RV, each of us hoping the others have left the A/C running. Thankfully we have (no blame game here), but it doesn't seem to be making any difference.
Detecting a slight rise in the wind outside, I step out for a moment to check the sky. A sharp dark line separates the deep yellow of a distant sunset and the onset of a brooding storm. "Hmm, we might need to bunker down" I inform the girls. Within minutes the RV starts to sway like a small boat in heavy seas and rain rattles the roof. I have visions of the destruction you see in those "storm" TV shows, specifically an RV riding the cusp of a massive twister, but I don't share that thought with my family.
Through the haze of minor panic, a light bulb suddenly illuminates my brain. The campground's "club house" building on the other side of the field could provide us safe shelter through the swiftly escalating  storm, and we decide to make a run for it. Outside the RV, it's clear this isn't your everyday storm, well not where we're from anyway. With rain and wind pelting our faces and backs, we quickly abandon our initially calm retreat and make a wild dash for safety.
The sky is now black as pitch, and the single campground light reveals bushes and trees lopsided in the blast. We finally reach the dark clubhouse and my heart sinks as I see the door has a code lock. We still haven't seen anyone who works in this place, but I had bumped into a helpful family from Florida earlier in the day, who'd told me the wi-fi password, and….
135791.
Somehow the number has stuck in my head, and we're in, and safe. We wait out the storm, and watch the updates and warnings on a TV bigger than the clubhouse pool table. A few minutes later our concerns about the storm are validated when the family from Florida blow in to join us. Living down south they see plenty of storms, and know when to get out of a stationery RV. We exchange travel and storm stories, and watch a guy called Mike lose 400 pounds on a show called "My Mighty Redneck Make-over" or something.
With the storm passed we cautiously return to our RV, noting branches, deck chairs and and other loose debris strewn around the park.
None of it seems such a big deal now, in fact in hindsight watching "Mike" go in for laparoscopic gastric bypass surgery was the scariest moment of the night.
And so we survive so that I might pen part 2 of our journey.