Heading to Georgetown, South Carolina and I'm reminded of the James Taylor song that goes "In my mind I'm goin' to Carolina". Which when you think about it is kind of a dumb link to make really, considering there's no actual place called Carolina – its either North or South Carolina, or the collective "Carolinas". Plus he was going there in his mind, and we're going for real. Ah whatever, hippy.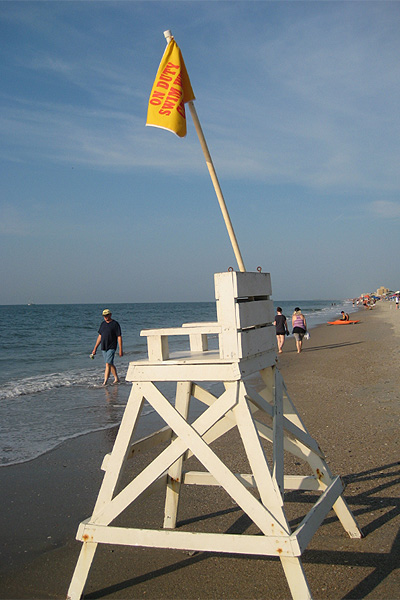 South Carolina's famous Myrtle Beach at sunrise

We need a cool stop on our way up the Atlantic Coast and pause to stroll out on Garris Landing, over the mud flats near Awendaw. A family from Pennsylvania are crabbing, which turns out to be a great spectator sport – the crabs are big and (common) and we learn about this part of the coast and the surrounds from people who've been coming here for years. Soon the tide rolls in and covers the marshy flats and the thousands of mud oysters. We're surprised scores of people aren't squelching through the mud, picking the flats dry but we're told the oysters aren't ready – they have salmonella and are still 3 months from starting to "ripen".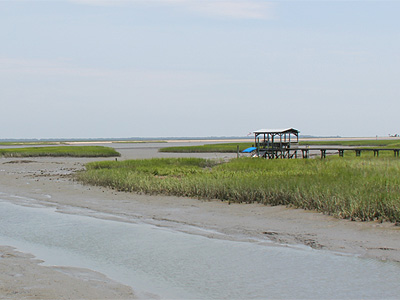 South Carolina coastline – Garris Landing and mud flats at low tide
Considering its summer, and taking into account that many Americans only get  2 weeks annual leave (did I hear someone say, "you get the labour laws you deserve"?) we've booked all our RV stops ahead to avoid being turned away. The only problem with this is that, occasionally the RV campground we saw set in lush, rolling hills surrounded by waterfalls and daisies on a website actually sucks in real life. Or maybe they just don't have the right power connection.
And so it is we drive up and back a mile down a road masquerading as sand dunes along which we shan't return. It was a shame Johnson's Campground and Marina had to be added to the growing list of parks with no meet and greet, because in the 3/4 of an hour we were there – spent working on the power issue and trying not to melt in the sun – I met two helpful fellow campers with whom I would have liked to discuss all things travel. Mo, a real no nonsense, "short back and no sides" military type, and Randy, who was travelling in a yacht moored at the campground's marina on the river. Randy in particular was well worth a yarn over a margarita or two, his boat rocking gently in the sunset, hearing more about his admiration for the great Australian adventurer Alby Mangles, and his plans to sail to Panama with his own version of Sale of the Century model-turned-adventurer's companion, Judy Green. I didn't meet  his wife but with an name like Claudia, coupled with Randy's permanent grin, I could only assume the boat, the trip and the wife were all straight out of the World Safari handbook. Well done him.
Moving on from the equally pretty and unfriendly Georgetown, we had  no choice but to take a chance on finding an RV park with a vacancy along the Myrtle Beach strip, which apart from being the frozen yoghurt and mini golf capital of the world, is one of the busiest beach resort regions in the USA. All this on, wait for it – the night before the Fourth of July. Luck was with us and we soon came across the biggest RV campground "resort" any of us ever seen.
Lakewood is like a city, with more than a thousand sites, cafes, pools, lakes, an auditorium, and its own form of transport – hundreds of golf buggys. The only spare site is 20 metres from the beach front, and we can't believe our luck. The beach itself seems pretty reasonable to an Australian, and sensational to any of the millions of Americans who visit each year who don't live within easy access of the coast, something we surely take for granted.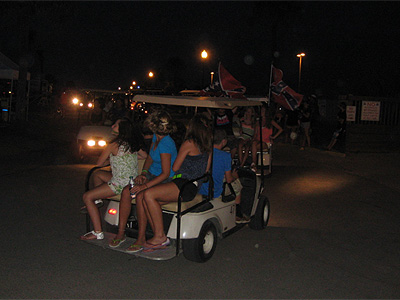 Golf Buggy life at Lakewood Camping Resort
After a wander and quick dip in the Atlantic, we listen to the family karaoke in the auditorium, and watch the endless procession of buggys looping the Lakewood circuit, each with its own kitsch combination of fairy lights and 80s rock anthems. An enjoyable slice of Americana before we continue our trek.
Wilmington, Surf City, Emerald Isle and Jacksonville fly by, and by mid afternoon we arrive at Cedar Creek campground in the out of the way and interestingly named North Carolina coastal town of Sea Level. Once satisfied our RV is actually above sea level, we wander off along the small marina and inlet, having a laugh about my attempt earlier in the day to drive through the military installation at Camp Lejeune. To his credit, the well armed sentry had taken my broad smile and dumb question at face value, though I'm sure he doesn't get asked "hey can I drive my RV through here?" very often. If only he could have known how much time that private 20 mile stretch of highway 172 would have saved us. He would have still said a firm "No".
North Carolina boasts some of the most beautiful and isolated coastline in the country, much of it accessible only by bridge or ferry. Sir Walter Raleigh sent several boatloads of settlers to these parts in the late 16th century on a failed attempt to colonise the new world. Life was harsh by any standards, and survival reliant on whatever food could be produced in the marshy foreshores, or dredged from the rough seas. They would return to England after only 2 years, decimated and starving.
In our own twisted, privileged 21st century way we identify with these poor people as we head to the Cedar Island ferry terminal – its 6 am, our stomachs are rumbling and we haven't seen a Dunkin Donuts in more than a day.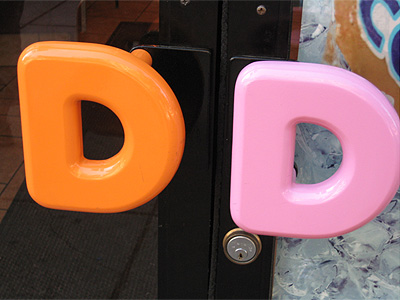 Bad coffee and iced donuts beckon!
The DD logo has become our unofficial mascot in the US. The coffee may not be great but as an experience, wedging our massive chariot into their car park and harassing the poor staff over their coffee making techniques (without a shot of hazelnut please!)  is synonymous with everything about our American road trips – wide spaces, endless expanses of pine, and fingers sticky with glazed donut frosting.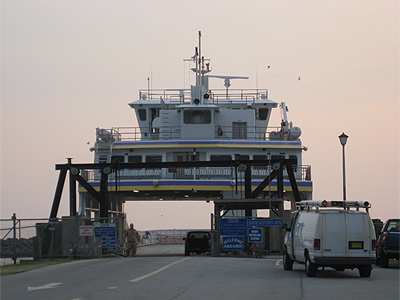 Sunrise ferry at Cedar Island.
As we marvel at the punctuality and cleanliness of our ferry, and its effortless ability to transport cars, trucks and RVs, we wonder what awaits us through the famous Outer Banks and beyond.