I'm generally a pretty happy, content sort of person, but the ultimate measure of my joyous state comes down to a simple yes/no question – "Am I on a road trip?". Of course any time spent with my family scores a 10/10, but gee I love the open road – the excitingly unfamiliar scenery, hot sun glinting through the windscreen, and a mysterious, ceaseless knocking noise coming from the back of the RV. It goes without saying that a road trip with my family is off the scale, or at least an 11/10.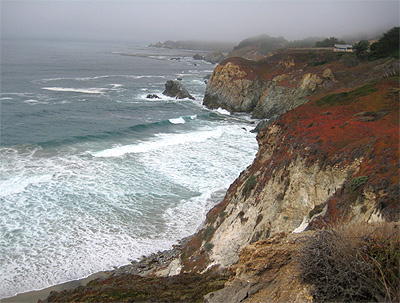 And so it came to pass that we had the opportunity to experience one of the world's great scenic routes – The Pacific Coast Highway between Los Angeles and San Francisco. Right up there with the Great Ocean Road, and high on my list of drives "to do".
After two days in Disneyland we're itching to introduce rubber to bitumen, and although I love wrestling with a big ol' RV, alas on this occasion our modest transport was provided by Hertz.
California is famous for many things – Hollywood, Beverly Hills, The Golden Gate Bridge, wine, the 49-ers, and Arnold Schwarzenegger. And although its all sun, milk and honey on TV and in the movies, there's one thing they don't tell you about that California should be famous for – fog.
I've been to this part of the world a few times, so I'm aware the weather – particularly in summer – is a bit of a crap shoot, and sure enough, half an hour out of LA a thick dark fog settles over the coast. Apparently this phenomena is due to a high pressure systems that form over the Pacific Ocean, but we aren't interested in science – we want views dammit!
Over three days we rack up the miles and the highlights fly by – Morro Bay, Cambria, Big Sur, Point Lobos, Carmel – we stop in some to sleep and eat, but still the fog does not break. We just have to take the travel guidebooks word for it.
A brief reprieve in Moonstone Beach allows us to spot sea lions, dolphins and masses of birds congregating in the nearby swell, but the moment we jump back in the car we're engulfed again. By the time we get to Monterrey, we're snowblind.
Arriving in San Francisco is like returning home – the place to which we eloped and wed all those years ago – the bridge, the bay, and of course, the fog.
Thirteen years and nothing's changed – there's still something special about this city. Just don't ask me about the drive.