A year late and a buck short, I've finally put together an account of what was a superb couple of weeks in the six states that make up the New England area of the North Eastern US. This is "old" America, a place with a history of pilgrims, early English and Dutch settlements and Atlantic sea-faring colonies.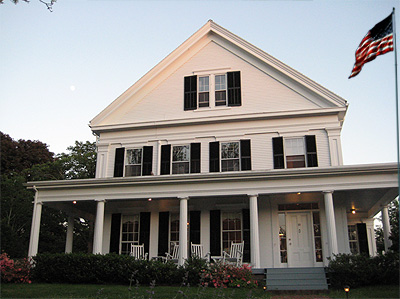 Liberty Hill Inn B&B, Yarmouth Port, Cape Cod MA.
We started with a fantastic week between New York and Boston which included four unforgettable days on Cape Cod. Now there's a place I could go back to, and would love to experience all four seasons. Must mention the scallop/lobster sandwiches, whale watching (guaranteed sighting!) and quaint little towns full of book and antique stores. The Liberty Hill Inn B&B provided us with an awesome start each day – cranberry and orange scones anyone? This place is ranked #1 on TripAdvisor for a reason, and I think I put on a few kilos during our short stay.
Guildford and Mystic, Connecticut, an impossibly cute slice of classic New England, both deserve a mention for their history, waterways, and creamy clam chowder.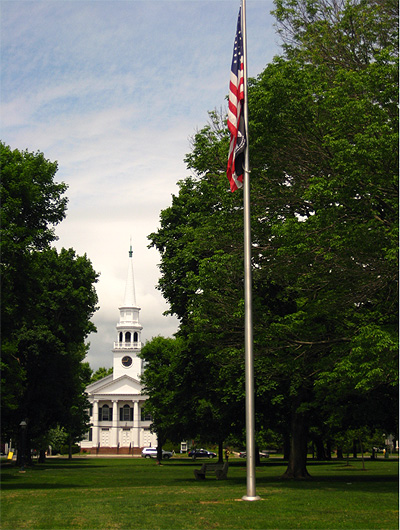 Classic New England in Guildford, CT.
Boston highlights included a dusk harbour cruise, a sunny-day walk through the Common, and a baseball game at Fenway Park, the oldest major league stadium still standing.
When it was finally time to collect our RV we hired a private shuttle from Boston out to the El Monte RV depot in Sutton Massachusetts for the princely sum of $160. A taxi would have been about the same. In fact the depot advertised as "Boston" was closer to the city of Providence, Rhode Island in the next state. A train might have been better but we still would have needed a taxi from the station so we just took a deep breath and opened the wallet.
Boston Harbour at dusk.
El Monte was a shambles. We deliberately booked (and paid for) the smallest RV possible due to the nature of New England (windy roads, small towns) but also because we were aware how everything is BIG in the US and we don't necessarily subscribe to the "bigger is better" theory.
While waiting our turn to be served we had a chuckle watching a British family struggle with the "walk around" and quick test drive of a massive RV they had hired. "Who would be so stupid as to want something so big" we laughed. "Nightmare holiday in store for them! Ha Ha."
And thud, back to earth we came as we were informed our RV was not available and we were being "upgraded" to a larger model. It took a quick family meeting to decide we had no choice but to take what they were offering us – an even bigger RV than the one we had just been sniggering about, which we immediately nick-named "the beast", a massive 32 foot long with a 14 foot overhead clearance.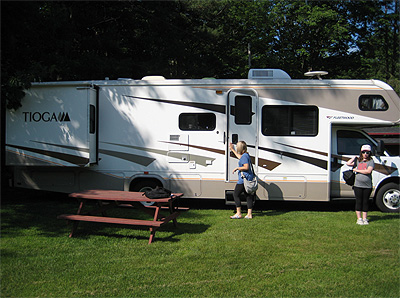 No wide-lens on earth could capture this RV in a single frame.
From experience I know how to suck it up in these situations – just take a breath and hit the highway. So two hours later we were on our way up the coast. Sticking to the middle lane and getting a feel for the beast via a series of lane changes and six hours later we rolled into our campground in York, Maine. Six hours? Google maps had said it was two! It seems we hadn't counted on Memorial Day Weekend traffic, and the locals trying to get away from all the yard sales.
So you can take it for granted that wherever we went we made sure we enjoyed the local beach/lake/river/pool/wine/beer/ produce and whatever passed for coffee in (insert town name here), so I will touch on some of the other highlights to keep this moving.
York and surrounds was lovely, although coming from Australia with so many 1000s of miles of fabulous beaches, it is always well er, interesting to see "great" beaches elsewhere. York beach I couldn't really see for all the rocks, but we found a spot to watch the waves and down a few lazy "Lobster" brand beers while munching on a supersized pile of honey soy chicken wings. Nearby Ogunquite impressed us also as a place worth recommending.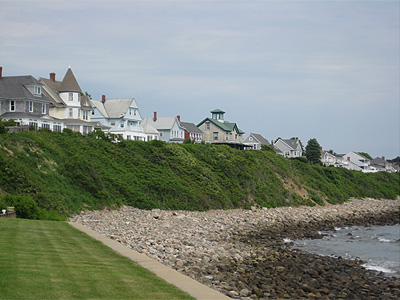 York Beach, Maine. Yes folks, those rocks are the beach.
We headed to New Hampshire via Lake Winnipesaukee, a beautiful drive and I could see how the towns and inlets along the way would be the inspiration for many a Steven King novel. We took a few wrong turns but one thing I will say about the US is that there are lots of churches with big car parks and they certainly saved us a few times as the beast is not capable of a U-turn anywhere other than an airport runway. Churches and Dunkin' Donuts became our dual saviours.
Woodstock, New Hampshire was a great spot and like so many of the campgrounds we stayed at, had everything our team requires – wi-fi (me), trees (wife) and a pool (kid). Parking and levelling the beast was an art in itself, but within a day or two teamgreen was looking more like team Ferrari, and we got it down to a few minutes before we were set up and the hydraulic bedroom and kitchen were zooming outward.
International haze hangs above the White Mountains
The Canadian wildfires reduced the vision from the top of Cannon Mountain in the White Mountains, but getting all of the team into the "air tram-way" – a 4,000 foot gondola ride – was a real win for persistence.
Littleton, Waterford and St Johnsbury whizzed by, and the US's smallest state capital, Montpelier (Mont-pel-ee-er) was worthy of more than an afternoon. In fact Vermont as a whole was stunning. We drove through all six New England states plus New York state, yet Vermont impresses immediately as a beautiful, well cared for place, made up of tidy communities, manicured road-sides and welcoming towns.
We camped at Lake Champagne, and although its pond-like waters resembled neither a lake nor champagne, the locals were friendly and there was some relaxing strolls nearby. I'm hoping the darting little shadows were minnow and not leaches.
Lake Champagne, Vermont. Or was it Spumante?
Woodstock, Vermont I could easily call home if I were ever to take a "mature-aged gap year". If that term's new to you its really just semi-professional speak for "slacking off for longer than usual". As if to punctuate that thought we stumbled (gotta love wi-fi!) across the nearby Long Trail Brewery and its great selection of beers which all demanded sampling. Burgers with big pickles were a perfect accompaniment.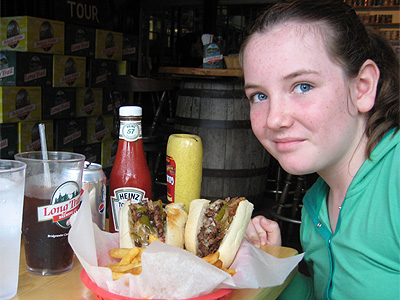 Cheers from the Long Trail Brewery, Woodstock, Vermont
The Vermont Country store in Weston is one of those must sees/do's which you hear about from everyone but really could skip, but we picked up some essential provisions for a fire and camp that night by the lake in Pownal, Vermont. Oh, and some non-essential chocolate flavoured chips too. We showed some smoked-out Dutch tourists how Australians make a fire and watched a perfect sunset over the water fountain.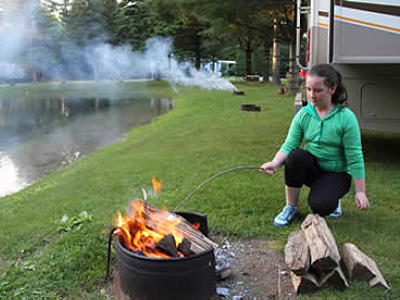 That's not a fire – this is a fire. Cough cough, Pownal VT.
With two days left we were within reach of our final destination, so we decided to take a detour back into Massachusetts for some more kid friendly activities – the highly recommended Basketball Hall of Fame and the so-so Six Flags New England. The breakneck speed and sheer scary-ness of the "Bizarro" rollercoaster was breathtaking.
Still recovering from some ill-advised slam-dunking the day before, we weathered an amazing storm in Hartford Connecticut and finally rolled into the Newburgh New York KOA as the clouds dispersed. That's "Kampgrounds of America" for the uninitiated. Major cuts in the US national education system I've been told.
The sun sets on our campground in Pownal, Vermont.
The final drive to New Jersey without a GPS was a nightmare of course, but I have a pretty good internal compass, so after a detour through the Bronx, the "charming" Jersey City and much of the heavy industry New Jersey has to offer (think waste stations and chemical plants), we finally made it to the El Monte RV depot, ironically driving through the biggest pot-hole of the entire trip in their crummy driveway.
The beast sighs it's relief and so do we. What a trip.