In the '70s my social life was far simpler, overlooking momentarily the obvious fact that I was too young for the pub, fondue parties or anti-war demonstrations. If it was winter and I was in Melbourne, there was no need to check the calendar or summon my social secretary – whomever would hold sway – I would be at the footy.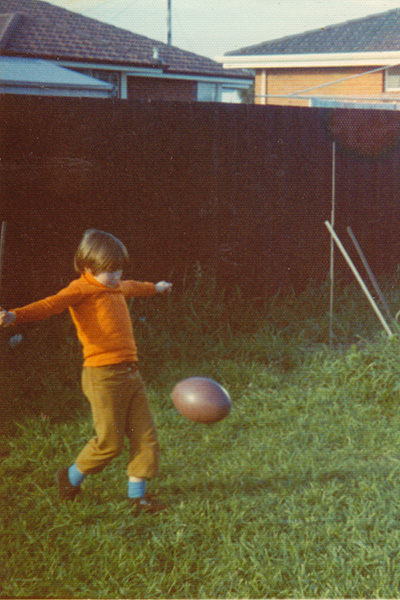 It was 1974, but on Australia's timeline it was closer to 1900 than 2000 in terms of our collective social and cultural consciousness. The inner-city streets were as rough as its working class inhabitants, the domestic political scene was simmering, and fried rice was as about as close as you could get to a multi-cultural experience.
It was my second game as a spectator of Australian Rules football. So why am I not writing about the first? Well when you're one of a meagre turn out of 8,000 people witnessing Hawthorn play Melbourne at Princess Park (the Saturday prior), it doesn't tend to leave a great impression on you, to the mild disappointment of my step father, a soft-core Hawthorn supporter. That previous week's game had been his last ditch attempt to introduce me to the brown and gold (known as the "poos and wees" to us kids)
and see if anything would resonate. I don't know if anything resonated, but there certainly was a bit of an echo standing out there on the windy terraces by ourselves.
No, I had already decided that a Tiger was a ferocious creature well capable of eating a Hawk, probably several, and that they would therefore be my team. It helped that they were also the reigning premiers, and in the middle of a golden era of success.
Not to be considered fickle or a band-wagon supporter though, I had chosen them as my team after witnessing their brave loss in the 1972 Grand Final. If only I'd known how many more losses I would have to endure over the next 40-odd years – ironically a highly successful period for the Hawks – I might have chosen differently.
When you're one of more than 36,000 people stuffed into the tough, grey suburban hole that was Victoria Park, and witness the spilling of beer, blood and verbal abuse,
you remember it for the rest of your life. I'd seen blood and teeth before, but usually it was accompanied by a scrape on my knee or a visit from the tooth fairy.
We arrived not long before the start of the match, and quickly determined that we'd have to find a spot near the entry gate. The swaying terrace was packed, and the waft of cigarettes, stale beer and fresh donuts greeted us like a smack in the face. Not being a footy fanatic as such, my step-father had completely underestimated the sheer raw power and feeling that resided in the heated rivalry between these two clubs, streching back over the last 50 years. Apart from being finals-bound, both clubs had the opportunity to snatch top spot on the old VFL ladder. In short, it was a brutal afternoon both on and off the field.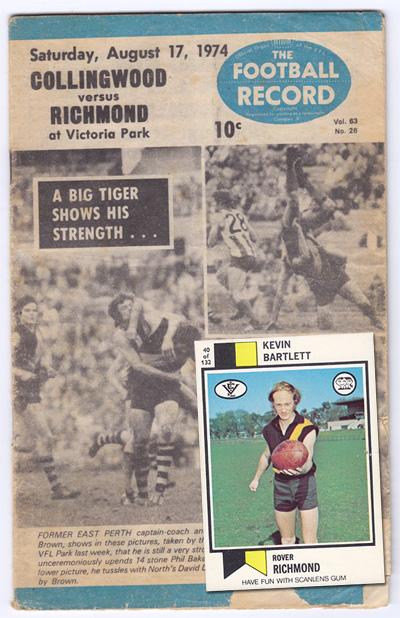 Anyone who witnessed football before its 1980's sanitation will tell you that Melbourne's suburban grounds were as bleak as they were unique. A victory away was as rare as a warm greeting from opposition supporters. Standing all afternoon in the freezing outer watching your team get pummeled into the mud at Windy Hill, Moorabin or the Lakeside Oval wasn't fun, but the crowds came anyway, merely for a glimpse of Royce Hart's gimpy knee, Vin Waite's sideburns, or Geoff Blethyn's Buddy Holly-style glasses.
The game was often lost by the time icy drizzle set in mid-way through the last quarter, and my mind would wander, thinking of the tram journey home to a cup of hot soup in front of Grandma's scorching fireplace.
The mighty Tiger's prevailed that day, and history shows they would indeed march on to another premiership just six weeks later in front of 113,000 people at the MCG.
The cost of victory had been high. In the outer, an old Richmond man in front of us had come off second best in a scuffle with a young buck of a Collingwood supporter. Beer came in a steel can in those days, and both the beer and the can were stronger and capable of doing more damage than today's incarnations.
Coupled with that, a young 7 year old lad was whisked away before the final siren, and would have to wait until next year before being allowed to go to the football again.