Sport, like religion, can polarize communities, divide families and draw lines in the dirt between territories. It doesn't matter which continent you're on, or whether you follow the highs and lows of Liverpool, Collingwood, or the New York Yankees. You embrace every victory and take every bitter blow as personally as you would a slap in the face.
When I was a kid growing up in the 1970's version of Melbourne's Eastern Suburbs, you either barracked for Richmond, or "someone else" – a collective of rabble teams, lower than the mud caked on the underside of our moulded-stud footy boots. Yes it was real Tiger heartland, emphasised by the parade of stars who visited our school each year to conduct footy clinics, such as "the Kevin's", Sheedy and Bartlett. I still feel the shame of being chastised by mighty Bruce Montieth for not listening to his lesson on over-head marking.
My Richmond jumper and I went everywhere – through the local orchards after school, to the milk bar to spend my 50 cents of pocket money on footy cards, and up and down every street in my neighbourhood, hoping to catch a glimpse of one of my school mates, primed for a late afternoon kick of the footy.
My school photos tell a familiar story – standing at the back, Richmond jumper freshly washed for the event, arms proudly crossed. My greatest disappointment was in 1977, when the school photographer chastised me – "Hey Richmond jumper at the back – uncross those arms, its not a football team photo!".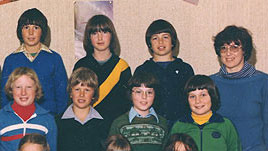 My bedroom walls were plastered with Richmond footy posters – my favourite being the 1973 and 1974 premiership team photos which came out in the Herald newspaper Grand Final supplements, the Monday after our great wins on footy's biggest stage. I imagined being there for those photos – a mascot perhaps – slotting in nicely at the front, between the feet of Daryl Cumming and Wayne Walsh, resting a Ross Faulkner football on the head of the famous Tiger skin.
Simple times.
In 2009, as part of the Richmond FC bushfire fund-raising initiative, I finally got to take up my position in the second row of the mighty Tiger's team photo – my daughter at my feet. Albeit under different circumstances – I had fancied my chances of taking the glamour route from the Glen Waverley Hawks, through Essex Heights (unofficial under 15s), to the Richmond Under 19's and so on. I learned the harsh lesson early that (self percieved) skill would only take you so far, and as I possessed neither the passion for hard work, nor the guts for the contest, my dream petered out by under 15 level.
Would I have done things differently had I known? Maybe.