June 25th finally arrives. Woke up and tried to stretch out the calf which I tweaked at training on Thursday, but nothing's doing. Hoping for a strapping miracle.
Its a glorious sunny morning, and a real buzz arriving at the G so early (9.30am). A few of the guys are arriving, we head to the change rooms, all a bit nervous and cracking jokes.
Lots of activity in the rooms, I find my allocated locker (has my name on it) and playing gear. The yellow top and white shorts aren't very flattering, but hey its the least of my worries. My locker is next to Michael Mitchell, and we have a decent chat as we prepare. Lovely bloke. The next hour or so is strapping, stretching and chatting to the ex-players and regular guys, the latter have really bonded in this short time.
I get a rubdown from the trainer and super strapping from a physio, he gets me to jog across the change rooms and the calf feels like someone's performing surgery without an anaesthetic.
Emmett Dunne takes us into the coaches briefing room, where he shows us the plan on the white board (DONT KICK IT TO PETER WILSON) and takes the piss out of me having played Gridiron, shows me the ball we'll be playing with etc etc ha ha very funny.
Faces getting serious now as the little warm up kicks in the change rooms are getting harder. Allan McKellar thinks we are in a canyon.
Richo comes in and gives us a rev, apologises for not being able to play (working for 3AW) and there's a few more announcements before we all sign waivers. Pull Bullus and Scotty Turner are chuckling about this bit.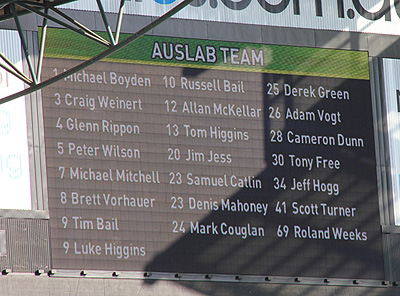 The sun streams in as we come up the race, what a buzz entering this great arena as a player! Everyone bursts through the banner except for me – I can barely walk – so I distract myself by looking for my family and hangers on in the crowd.
A quick warm up then the coach runs through the positions again. I'm in the back pocket which should be fun – for my opponent. The siren sounds and the ball is bounced, adrenalin coarses through the veins. Lucky for me my team dominates and the inside 50s are about 10-2 in our favour. I can barely move but at least I'm out there.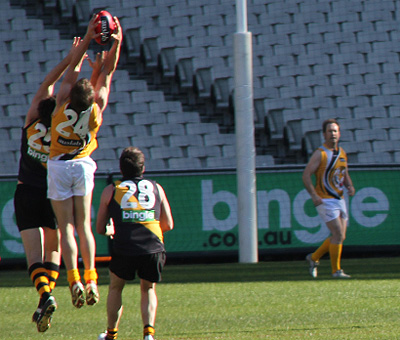 Mark Coughlan is a beast and wins every clearance, combining well with Jeff Hogg – who's still in great shape – and Tony Free. Someone forgets the game plan and Peter Wilson runs into an open goal. Coach not too worried as we're 3 or 4 goals in front. The Richmond team have a couple of early injuries, and we seem to have extra numbers everywhere. No-one does a head count but I suspect there's something going on there. The 1/4 time address is simple. "We're ahead, so… just keep doing that."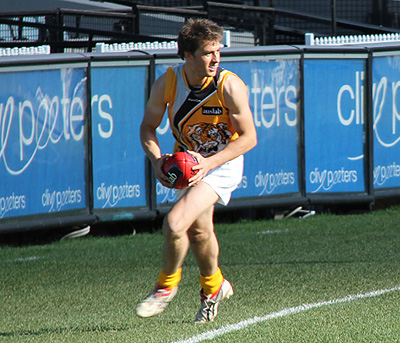 Coach hasn't noticed I'm close to useless, but shifts me to the forward pocket anyway. And then it happens. Not sure if its the mere sight of the goals, or if my feeble/painful attempts to run have somehow loosened up the calf a little but I find I am actually able to move a little and get involved in the game.
So my "Legends" team wins comfortably, and I end up with about 10 possessions – 4 or 5 marks and dished off handballs to runners every time bar one – a quick snap for goal at the Punt Road End which sails just left and I am devastated. Would have kicked that 9 times out of 10 and here I am on the 'G' and I serve up that tripe. Later my shit-stirring brother in law tells me it was all class and that I have contributed less than 1% of our teams total. Fantastic.
We sing the song in the middle and head back to the rooms for a few beers. All the players sign my jumper and I get to have a good chat to a few, notably Hoggy who I played against in juniors. Just a top bloke.
Get a great cheer from family/friends who are mostly just amazed I played the whole game. Social club is a buzz afterwards, the guys recount the game, talk some trash, drink a lot and generally let their hair down. Medals and Cup are awarded and we take lots of photos.
So they have called it a "Once in a lifetime opportunity" but me and most of the other guys are already thinking about next year. Maybe its the champagne but if they had put a form in front of me I would have just signed up straight away!
Never forget this day.