This blog is part of my ongoing Eat, Stay, Love series.
Given the streets are dusty, fast paced and a tad daunting, St Petersburg is the kind of city you need to have a comfortable hotel and activities to retreat to when it all gets too much.
State Hermitage Museum
It goes without saying that you will fight the crowds for the best vantage points of the State Hermitage Museum, Church of Our Savior on Spilled Blood, and Peterhof Palace and Garden, but a boat trip around the canals is a great way to become familiar with the layout of this sometimes chaotic city. Tip – try and find a company that offers commentary in English.
You may also struggle to actually find the original Winter Palace – hidden behind a non-de script looking doorway on the embankment, attached to the rear of the Hermitage buildings – it's also worth a look, if for no other reason than it's contrast with the magnificence of the Hermitage itself.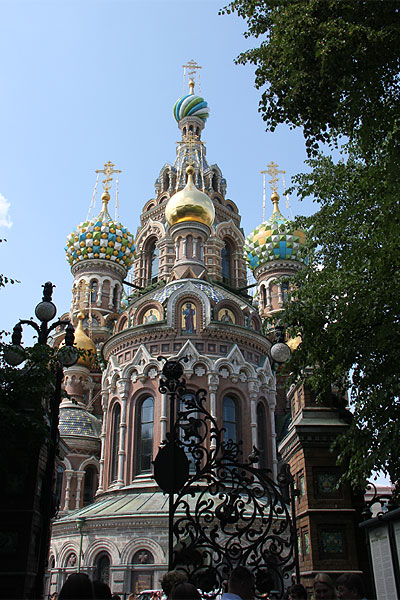 Church of Our Savior on Spilled Blood
Mariinsky Theatre (Kirov Opera and Ballet)
Its hard to imagine coming to this part of the world and not going to the ballet. The Kirov was an excellent choice. The theatre itself is majestic and full of character, the performances creative and slick.
It was a tad expensive, but hey, you make your choices and you live with them.
1 Teatral'naya ploshchad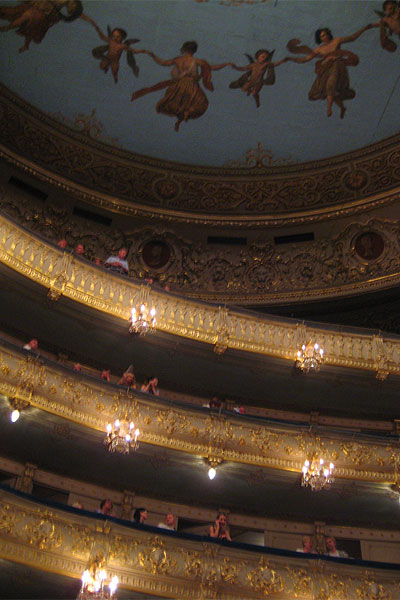 Mariinsky Theatre's multi-leveled splendor
Corinthia Hotel
You just never know what to expect in Russia. The cities are fast paced, self-absorbed, rude and slightly edgy and frankly, so are most of the people, hotels and restaurants.
The staff at the Corinthia impressed me from the outset, bending over backwards to help us with the papers before we had even left home, and that first impression was confirmed upon arrival – professional and prompt at every opportunity, organising cars, ballet tickets, restaurant bookings etc.
The hotel itself is located on busy Nevsky Prospect, walking distance to shopping, canal tours, subway, and many attractions. There was a security person at the entrance at all times, which was a comfort as the city can be overwhelming – it was good to know we could just duck back inside with the family for a breather if need be.
The room was quality and the hotel facilities excellent, the only letdown was the Imperial Restaurant, which was expensive, but with poor service and an unimaginative menu.
Overall coming back each night to a hotel where you knew you were welcome and valued helped make the whole St Petersburg experience worthwhile.
Nevsky Prospect, 57
---
The Idiot Restaurant
"The Idiot" is a St Petersburg institution, sadly these days it's more likely to be filled with tour groups on their way to the nearby Mariinsky Theatre, than it is poets, philosophers or revolutionaries.
No doubt it has plenty of old world charm and atmosphere, the furniture, drapes, artwork and low ceilings, along with the name – none would be out of place among the works of Dostoyevsky.
But the charm wears off quickly as the ordering process begins. "No you can't have this". "No we are out of that" – which all roughly translates to "we can't be fagged making anything on the menu, so you will have this". Well at least our waitress isn't tearing strips off us, the fate of a fellow at a nearby table. Not even a free shot of bleach-like vodka can lift our spirits. And who brings out vodka for kids anyway?
Once the food does arrive, its all wrong, stodgy and bland. We leave feeling unfulfilled, and very unloved.
All in all, you come to a place like this for the experience, not the service or food. Put the latter aside and you might think its worth it as part of your quest to find the real Russia.
Moika Embankment, 82