This blog is part of my ongoing Eat, Stay, Love series.
I could sermonise the virtues of New York for a month. Much has changed since my first, let's face it, scary visit back in 1987. The city has been transformed into a mostly clean and welcoming metropolis, overflowing with great food options for each of the day's four meals (yes morning tea is a meal, in fact it's quite possibly the most important meal).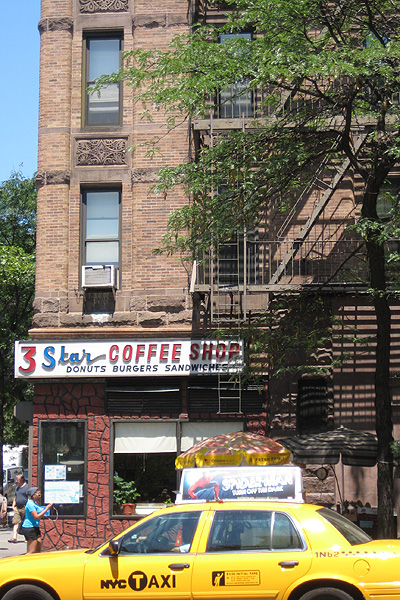 Cop lunch on the Upper West Side
Dovetail
Sometimes not that much needs to be said about a place.
I'm hard to impress but I was impressed by Dovetail. I wouldn't go as far as to say it was amazing, but certainly in terms of quality of food an service is was exceptional.
103 W 77th St
---
Telepan
Whenever in New York we plan a special night out at a highly rated local restaurant and Telepan didn't disappoint.
The menu was well thought out and smartly presented, the wine list still contained some gems in the $80-100 range, and the service was professional in that fun way the top restaurants seems to be able to pull off – knowledgeable, subtly humorous – all whilst maintaining a slightly stuffy fascade.
If I had to offer up improvement opportunities, it would be 1) too many staff which meant they tended to hover a bit. I am a traditionalist who likes his breathing space, and prefer the meal to be allowed to run its course, and all the clearing away done at the end, and 2) The prime rib was presented to the participants before being whisked away for slicing, however in the ensuing 10 – 12 minutes rested a little long and was returned closer to medium-well than medium-rare and 3) Probably related to number 1) above, the hostess/Maitre D' had a scowl on her face all night which was a shame, she was not in a happy place.
At $100 per head + alcohol for 3 courses, I can comfortably say it was a good choice and a great night.
72 W 69th St, Frnt 2
---
Bello Giardino
Charming Italian restaurant with a neighbourhood feel on 71st and Columbus, in the heart of everybodies favourite "side" – the upper west.
The service was efficient and friendly, and the food, whilst not fine-dining, was all well thought out and authentic, with enough touches of quality to make it a pleasing experience.
On a warm night, breathe in the atmosphere of the lovely hanging gardens at rear, while sipping a glass of red and enjoying the murals of the old country.
Bello!
71 W 71st St, Frnt 1
EJs Luncheonette
A must for visitors to New York. Come to think of it, if I lived in New York I'd eat here every Saturday!
Great pancakes, eggs, milkshakes and crunchy French Toast. Service is good enough if you don't need to be worshipped, just have your coffee topped up once in a while.
A word to anyone other than those with the heartiest of appetites – order to share, or you'll send a great deal of waste back to the kitchen!
1271 Third Ave. at 73rd St.
---
Good enough to Eat
There's only one thing better than a hearty American breakfast of coffee, pancakes, maple syrup, blue berries and bacon, and that is a hearty American breakfast done really well.
GETE was a local eatery for our stay and places like this just make you want to stay longer – or stay forever!
It has a laid back atmosphere and neighbourhood feel, love it.
483 Amsterdam Ave, Frnt A
Pasha
Chanced upon this little basement place when other places nearby were a little too "beer and pizza" for our liking and was pleasantly surprised.
Turkish food to me has often been over cooked (charred), oily or salty, but not at Pasha. The menu is traditional yet interesting, and everything that hit the table was quality.
Combine with the charming interior, atmospheric outdoor settings and attentive service, and you've got a restaurant I'd return to – and did!
70 West 71st Street
---
Blue Note (Sunday Brunch)
Brunch would surely be a different experience to a night-time event, although I suppose a few things about the club (e.g. sticky carpets and average toilets) would be the same.
Overall the food at our table was pretty good – eggs, pancakes etc, I think the success of the brunch experience probably comes down to the act in most cases, and of the 2 acts we saw on our visit, we all thought the first – a lady singing cabaret standards – belonged on a cruise ship for the elderly and the second – a young pianist and cellist playing modern jazz – were pretty good and on the way up.
I'd probably return and do it again, maybe go for a night show next time and cross my fingers that Dave Brubeck is still kicking and in town.
131 West 3rd St
La Boite en Bois
This little basement eatery looks and feels like a ship's galley. Dim passes for "atmosphere" and opp-shop decor passes for "retro". But its busy all the time (including a nice Sunday brunch) so you would need to make a reservation.
The service is as attentive and friendly as I'd expect from a Frenchman in New York (not especially) but it is efficient.
The food was good without being great, but nothing in North America has that freshness about it that you experience in places like Australia where the trip from garden to plate is so much shorter.
Overall a bit of fun and nice excuse for a glass of champagne on a Sunday morning if you go for the brunch
75 W. 68th St
---
Megu
OK first I should preface this by mentioning that I am from foodie-heaven Melbourne, and travelling just reminds me how superbly fresh, well prepared and intelligent food is in my town. This makes it hard to detach when rating "top" restaurants in places like New York, London, Paris etc. Nothing like a soggy lettuce leaf to get you off on the wrong foot.
Anyway Megu, for all it's reputation and top shelf price, I found unexceptional in terms of food, noisy and poorly set out in terms of atmosphere, and downright crummy in terms of service.
If you are wanting good Japanese food, there are plenty of better (cheaper) options in Manhattan. If you are wanting to impress, then Megu just may not get it done for you, unless you opt for the Dom.
It fell short of my expectations in every department.
62 Thomas St
Ciao
This place is prominently positioned on the corner of Bleeker and MacDougal in Greenwich Village and a table outside was a good spot to take in the sights and sounds of a busy NY neighbourhood.
The food was "OK", but the service was vague and slow – no excuse during a pretty quiet lunch – and its one of those places that automatically adds 20% tip to the bill, which apart from being completely unwarranted considering the lack of attention we received, was totally out of line for a table of 4.
I'm not the kind of guy that stands for that, so I made them remove it from the bill and added what I thought was an appropriate tip based on the service – and only left that amount because I felt obliged, not because it was deserved.
Needless to say I wasn't popular after that, but to be honest I wouldn't return anyway so, like, whatever.
185 Bleecker Street, Greenwich Village
---
Shake Shack, Upper West Side
Shake Shack has positioned itself as one of those New York City institutions – like Rays or Gray's Papaya – that you, like, "gotta go there man". Well maybe, but only if you've never really been to a "buzz" place like this, where the queue goes out the door, its noisy, you can't get a table and you're surrounded by tourists with a checklist.
But…. if you have been around the block a few times, then I doubt Shake Shack will hold much interest unless you have kids.
Menu-wise its burgers, dogs and fries (surprise!) and unless you want a big 'ol watery mushroom burger, there's nothing for vegetarians. The famous concrete (frozen custard) seems like a good idea for the first couple of tugs but will ultimately go in the trash unfinished.
There's 4 or 5 of these around New York, but this one feels out of place, nestled among brownstones, cool bars and restaurants, and in the shadow of the Natural History Museum on the Upper West Side.
Overall, if you're in the Upper West Side already, why not go somewhere a bit classier and more iconic in it's own, legitimate way?
366 Columbus Avenue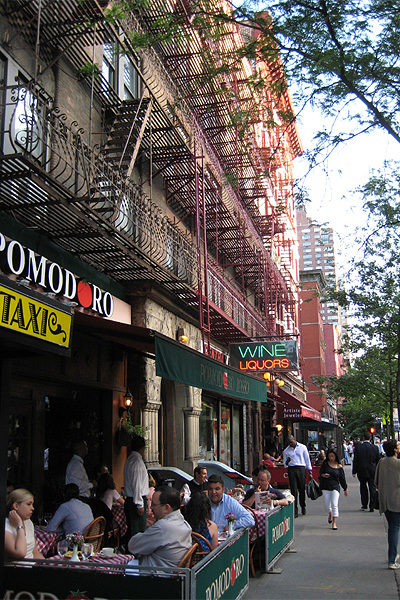 Enjoying outdoor dining on the Upper West Side