This blog is part of my continuing "Big Dumb and Broad" series. Some names and dates have been changed.
Even before the tragedy and aftermath of Katrina, New Orleans was murder capital of America. I met Maurice (Mo) when he was working part time over summer, awaiting the results from several applications for college athletic scholarships. At 6 foot 4 and supremely toned, he was eight parts Carl Lewis and two parts Jerry Lee – he had some pretty funky moves apparently.
Another way to make it out of The Project – busking on Bourbon st
The sad irony was that Mo really was the first non-white person I'd ever met and become friends with. Given that plenty of different races and cultures make up society at home in Australia, it seemed a long way to go to broaden my horizons beyond their whitebread limits.
Mo was a very chilled, switched on guy. He was focused on his studies, his athletic potential, and staying clear of the "loser gang culture" many of his friends and family had drifted toward. He had already been to the US olympic trials in 1987, had registered one of the top 50 times in history for his event (20.42 seconds in the 200 metres) and had been scouted to play wide receiver by several big college football programs.
It was clear Mo was going to make it one way or another, though I was witness to how hard it was to leap some of the cultural and socio-economic hurdles young Afro-American men face every day.
On a hot night in late August, Mo and I planned to head to the movies. It was decided he would pick me up after he'd finished work, and we'd scoot over to the mall and check out the mega-plex. I heard Mo's car from 2 blocks away, a deep bass beat rattling every window in the street. As we headed towards the mall I turned to check out what kind of speaker system would make such a racket and was surprised to see the back seat of his Mazda had been removed and replaced with a single woofer, the size a garbage can lid.
Mo had forgotten his wallet, so we would need to make a quick detour to his place nearby, an upstairs-downstairs estate with its main gates just off one of the busy boulevards.
"They call it 'The Project'…" Mo said, "…which I know sounds like some mad white professor made this place and put us all in there to see what would happen, but it 'aint that bad"
And stuff sure did happen, some of it bad, as I was soon to find out.
It was dark as we approached the main entrance to The Project, and Mo slowed and turned up the volume on his back seat sound system for the benefit of 7 or 8 young Afro-American men standing outside an adjoining convenience store.
"Eh, Mo', what's happenin'?" called out one young man. "Who you got?"
Mo laughed, waved and thankfully continued on. I'd seen that convenience store scene once before – when I'd taken a wrong turn in a rough neighbourhood in Chicago a few months earlier.
The next obstacle turned out to be a police car, complete a with torch waving white police officer directing Mo to pull over. Mo complied as I noticed an area past the cruiser, cordoned off with bright yellow police tape.
I was starting to feel a little nervous.
"What's this guy want?" I asked, eyeing white cop nervously.
"Oh, somebody got shot there last night" came Mo's indifferent reply as he nodded towards the tape.
"Is that a usual kind of thing? What happened?"
"Well, black guys have been bringing in white guys and sellin' 'em drugs."
Ah drugs, it always seems to come back to drugs, somehow.
"And this particular white guy?" I enquired with trepidation.
"Hmm? Oh I dunno, probably tried to get away without payin'."
"Just perfect!" I thought, noticing the contrast between Mo's impossibly dark skin and my own slightly sunburned pink hue for what felt like the first time. Anyone who didn't know us would be bound to make an assumption about our purpose together in this part of town.
White cop tapped for Mo to wind down his window, and shone his torch on the two of us.
"Hey" said Mo, a little too casually for my liking.
"Oh it's you Mo" was the response from the officer. Being a high school football star obviously had benefits.
"Who you got there wid ya?"
"This is Derek my friend from Australia, we're going to the movies, I just gotta go see my mom."
"Okay, just take care now. Been busy 'round here lately as you can see." With that little comical quip, white cop waved us on.
My relief was short lived as we wound our way through the courts and closes of The Project. To say the place was dimly lit and bleak would be an understatement. I'd never been anywhere like this before.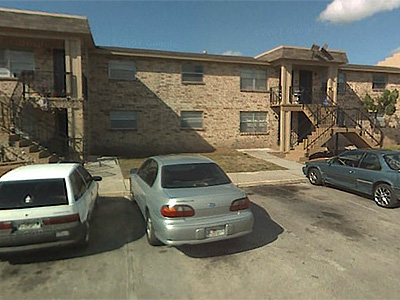 Google streets reveals that nothing much has changed in 20 years
"Hang here" said Mo as he parked out the front of a drab two story block and jumped out before I could argue that, given the circumstances, we might be better sticking together.
Mo looked back at me and, seeing the worry lines working their way across my face, gave me a reassuring smile and two fingers. "Two minutes."
Five minutes passed and I was starting to attract attention. It was dark enough for me to slide back into the shadows of the car, but not so dark that I could hide from any over-inquisitive passers by.
By the time ten minutes had gone I was sweating, and, perhaps like the poor sod last night, my irrational mind was planning to make a mad dash for freedom.
Finally a shadow emerged from the block and headed purposefully toward the car. Soon enough I realised it wasn't my All-State, wide receiving friend. This fellow had a look to suggest he was not interested in being friends.
"What you doin' in that car? That's Mo's car!"
I ignored him. It was the best idea I could think of as my pulse raced to the point where I could have measured it without pressing anywhere. There were bushes about 25 metres to my left. This guy was mean, but he was big and I could probably out run him if my life depended on it.
"Ahm talkin' to you!" he growled angrily as he circled around to the passenger side of the car. The bushes were suddenly as good as a mile away now – he'd blocked my way.
At that moment, a second figure came into view, taller and leaner than the first, but moving quickly.
It was Mo!
"Hey Dwayne, that's mah friend brother!"
Dwayne looked in at me with distrust, looked back at Mo, then without a word, turned and disappeared into the darkness of the block.
Mo started up his Mazda and, sensing my needing-a-new-pair-of-underwear moment, apologised and got us out of there.
A few minutes down the Boulevard I had composed myself enough to speak. "Who was that?"
"That was my older brother Dwayne" said Mo. "He's a great guy but he's mad – busted up his knee in his last year of high school football and missed out on a scholarship. Nobody could tackle him, nobody!"
I believed it. Who'd dare?
"Now he just watches TV, and looks out for me. He probably saw y'all and thought there was something goin' on, you know, with the way things are around here. Everybody around here is hopin' I'm the next one to move up and out, so they all make sure I don't get into no trouble."
At that moment, it was me who was most relieved to be out of that place, but I hoped Mo made it out too.
Several years later I received a letter from Mo, with mixed news. He'd missed the Olympic team cut, and although his medical's weren't good enough to get a full scholarship, one of the big South Carolina colleges offered him a walk-on spot on their football team. At his size and with his speed, it was worth a shot. Unfortunately, like his brother Dwayne, Mo blew out his knee and had to be content with his hometown status as a high school star.
It wasn't all bad news. He'd taken advantage of his place at college and earned a degree. During his college years he'd married a lovely girl and together they had a bouncing boy.
His letter was full of hope and joy, as was my heart after reading it.