This blog is part of my continuing "Big Dumb and Broad" series. Some names, places and dates have been changed.
Everybody dies. My Grandfather died in 1989. Grandma Green went in 2001. Great Uncles and Aunts – long gone. But they all lived long, useful and mostly happy lives. They loved and lost, travelled the world, raised families and experienced many flavours of adventure.
When Lateesha died she hadn't lived. How could she have? She was only two years old when fate stepped in one hot July day almost 25 years ago.
What follows is a tale that's been locked away for all that time, and one that I don't write about lightly.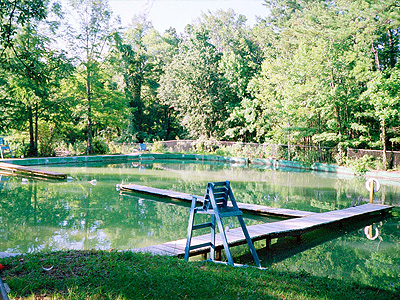 More of a large, murky pond – the Sunny Valley Day Camp "lake"
For one summer in the late 1980s I was a camp counsellor in Florida, USA, employed by Ms Belvedere of the Sunny Valley Day Camp.
It was a busy place with a hundred or so kids aged from 0-13 coming and going every day. That's a lot of kids to keep occupied from 6am until 6pm, and a lot of kids to supervise and keep safe. On the latter score, I regret to say, the camp (including myself) failed.
All up there were five foreign camp counsellors employed by Ms Belvedere that year, hailing from the UK, Europe and Australia. They complimented a force of local counsellors, mostly recent high school graduates, many preparing to pack up and cross the country to attend college in the fall.
The "fow'ners" as we came to be known were a bit of a mixed bag. Anders the tall skinny Dutchman with the squeaky voice, the triathlon-loving Irishman John, Dubravko the self professed "lazy" Croat and finally pot smoking, couldn't care less, not sure how I ended up here, never worked a day in my life, Richard from England.
Ms Belvedere probably had high hopes that we would bond and make a great team, but with Anders usually in the pool, John on the run and Richard barely sighted, it was left to Dubravko and myself. Ah who am I kidding, she wanted cheap labour and she didn't care where we came from or what our names were as long we greeted the kids at 6am and swept the floors when the last one left at 6pm.
More about Ms B another time. The point is we weren't always at the top of our game when it came to looking after the kids, and with all the distractions of a hot Florida summer, neither were the local crew.
A sunny day in the "Valley"
A typical summer day in Florida has some certainty about it. Cloudy in the early morning, sunny by late morning, sweaty by lunchtime and thunder, lightning and rain around 5pm. Every day followed the script, which if nothing else made it easier to plan group activities.
Swimming was scheduled for most afternoons, either as lessons in the pool or general play in the camp's "lake", a large soupy pond near the edge of the property. Counsellors would follow their group of girls or boys to each activity, and supervise or instruct as required. My specialty was a workshop featuring Crocodile Dundee impersonations and some pretty lame bush songs. To kids coming from single-parent families and craving the closeness and attention that TV never seemed to give them, "Tie Me Kangaroo Down, Sport" actually had a freshness and fun about it. Their smiles and honesty got me through a few rough days when the stinking heat and tyrannical Ms Belvedere were riding my back.
Sunny Valley was packed by summer's peak. There were rumours we were way over our daily limit, but this wasn't for peons like me to be concerned about – Ms Belvedere had been looking for a reason to send me packing for a while and I wasn't about to give her one by questioning her practices.
With the sheer number of children needing to cool off, many days saw the lake being preferred to the pool, simply because of its greater capacity.
I'll tell the next bit about a particular day in July the way I remember it – and exactly the way I described it to the insurance people when interviewed in the days and weeks that followed.
All children in the camp (with the exception of babies) gleefully headed to the lake after lunch, towels in hand and their group counsellors close behind. The lake was divided into areas based on the children's age and swimming ability, with each of the foreign and local counsellors being given an area to watch, in some cases two or three counsellors being responsible for an area. Craig, Sunny Valley's head life saver, oversaw the entire lake from his wooden tower that rose above a rickety pier, and barked orders at the happy children, and occasionally a counsellor.
Although sitting in the sun listening to the cheerful chatter of children at play might sound like a relaxing way to spend an afternoon, I found it slightly stressful. I was stationed in the far corner watching my current group – boys aged 11-13 – playing diving games in the deepest part of the lake. Four heads down… one, two, three… four heads back up. It wasn't difficult, but I didn't feel like I could let my attention stray for more than a second or two.
Further around to my right, Richard and Dubravko were being somewhat less diligent. Prone on a wooden jetty that separated the shallow toddler space from the rest of the lake, each was sun-baking, eyes closed, like they were on the beach at St Tropez. At one point Craig called out from his perch, reminding them that they were actually currently life guards and although there were many pairs of eyes watching the lake, they should at least put in a little more effort. Dubravko took the hint and, yawning, sat up and swiveled around so that he could at least feign interest in proceedings. Richard on the other hand was disinclined to move – in fact he barely acknowledged Craig's existance. We were not even half way through our four month commitment, but Richard's attitude hadn't changed since day one.
Minutes later there was a fuss in the crowded waters, just near Dubravko and Richard's spot. I saw Chad, an older boy carrying a large bag towards the shore, holding it gently like it might fall apart at any moment. By the time I realised he was holding a limp child, screams had cut through the splashing and minor panic had set in.
"You guys!" I yelled at the four lads who'd been playing near me, "Out NOW!". They quickly complied and together myself and the rest of the staff rounded up and counted the children, whisking them away to the camp assembly point.
Meanwhile, Craig had leapt from his chair, taken the young girl from Chad's arms and commenced attempted resuscitation. From my vantage point a few metres away I could see it wasn't going well.
Chad was being led away by the camp manager, "I stepped on something. I reached down and it felt soft and slippery. She was stone cold. I think she'd been there a while". For a 15 year old he was coping well, but the experience would harden him before his childhood was truly complete.
Emergency services arrived in the form of a fire truck and ambulance. The sirens wailed but hope was fading. We were informed shortly afterwards that the two year old Lateesha had died.
In the hours and days that followed it became clear that, tragic and regretful as the drowning was, the camp's number one priority was to dodge blame and any potential litigation. Ms Belvedere told anyone who would listen that Lateesha's parents were "Good Christian folk" who were saddened but "didn't believe in lawyers".
Each counsellor was individually interviewed by both camp management and insurance companies and asked the same questions, given maps to highlight locations and supervision areas of themselves and the other counsellors. Some, like the distraught Craig, disappeared into sessions that took hours.
Richard was dismissed within a few days, and was never seen or heard from again. The pain was clear on Dubravko's face and he wasn't the same over the remainder of the summer. We talked about it, shared our guilt and lamented over the fact that a struggling child could go under so near to several life guards, without anyone noticing. Were there too many children in the water that day? Was the inattentiveness of life guards to blame? Could the camp have better educated the counsellors about water safety and awareness?
I do think of that day, think of the life that was lost and what could have changed to save it. All it would have taken was one adult to look up for a split second at the right moment and catch the eye of a young girl wading out of her depth. That glance from any one of six or seven people was the difference between life and death.
A life can be lost so quickly and easily, and, it seems, covered over and closed off with equal swiftness once the suits get involved.