"…and I'll give you the man". This loose translation from a 400 year-old Jesuit proverb hints that many of our personal traits are set at an early age. History also suggests the Jesuits were quite keen on beating children under their care, so it may be that many kids had no choice. Without wanting to kick off another of those "genes vs environment" discussions, I believe both can contribute to our make up at an early age.
So its probably time my parents explained this photo. At the age of five I would often be tied to the old swing set in our back yard with 40 foot of old rope.
Depending on the intricacy and tightness of the bindings, some days it would be for what seemed like hours at a time.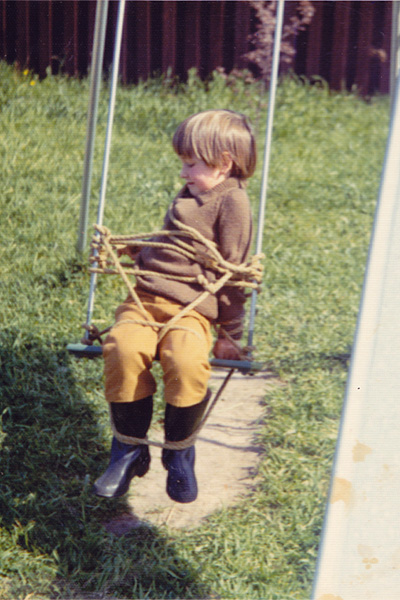 My memories are distant but fond. A simpler time when the sun shone longer, oranges were sweeter and you could kick a footy in the street until dusk,
using telephone poles as the goals. I found great delight in the challenge of loosening the knots, following each bend and twist in the rope, ever nearing freedom.
Recently a comment was made about this photo that made me rethink. "Oh, I get it, its a game, ri-ghto…".
Well wasn't it? It was fun wriggling my way to freedom, sandpit beckoning nearby. I figure back then I was just your typical rosy-cheeked, energetic, would-rather-be-wrestling suburban lad. Being tied up was a great way to spend the afternoon!
Or was it child abuse? Was I ADD? Or were my folks nipping off to the pub for a bit – or worse still, just nipping off "for a bit"?
These days I still enjoy a challenge but don't spend much time yearning to be tied up. And although I'm great at undoing knots, I'm not good at tying them.
The Jesuits might argue it all made me the man I am today.