London is such a wonderfully massive city, a collection of distinct neighbourhoods and  cultures, busy people in the act of arriving, settling, or just passing through from all corners of the empire and beyond.
It is equal parts paella, jambalaya and bouillabaisse, with a splat of bubble and squeak, but to fully understand its palate you must visit a range of eateries: the trendy lunch spot owned by the celebrity chef who approaches gastronomy like he might experiments in a laboratory; the garish franchise so familiar yet totally at odds with the ancient city streets; the good old local pub with 300 years of stale smoke and ale breathing from the floorboards; and the bustling workers' cafe serving "meat and three veg".
In each you will mix with locals and fellow travellers, for London is the world's transit lounge. There are cities I love equally, but arriving here at any time still feels like home.
"Fi' paand, Fi' paand – Oi! Wo' you lookin' a'?" Can you get any more London than the
Sunday flower market on Columbia road?
Ottolenghi, Islington
Oh my, if only I lived around the corner from Ottolenghi.
Walking in, the senses are greeted by plates piled high with yummy treats – cup cakes, chocolate brownies, schnitzels, salads and more.
The menu is creative and whether for breakfast/brunch, lunch or later, its one of those places where everything seems like a good thing to order, but there's never any second guessing once your dish hits the table. So much so I had to take away a whole pile of boxes for later.
If Ottolenghi was my local, the man would need to widen the door to accommodate me before too long.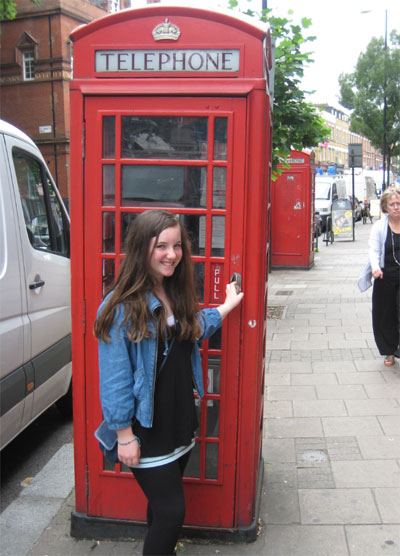 I'll call ahead to Ottolenghi and save a table!
Bistroteque, East End
With a reputation as one of the leaders of the East Ends' food movement, the exterior of Bistroteque could easily pass for a rubber factory or shoe warehouse, but housed within is a culinary gem from top to bottom.
Downstairs is the moody bar where they will happily serve you fabulously expensive cocktails and peculiar bottled beer.
Upstairs, fine dining – a superb selection of champagne and wine, and quality service with that touch of playfulness that only the best restaurants seem to pull-off whilst somehow remaining on the right side of pretentious.
My pork belly is rich and succulent, yet the crackling has got that crunch I'd been praying wouldn't be compromised in the process of achieving perfection. Not that I needed a vegetable, but potatoes cooked in duck fat are at best, heavenly, at worst, well, seemed like a good idea at the time.
Equally enjoyable is a sunny brunch of eggs benedict while a hung-over pianist knocks out a slow and soulful Amy Winehouse number, before snapping to attention and belting out "Rehab" with a sudden energy that serves to remind, yet celebrate the life that was lost just the day before.
If you can, just go.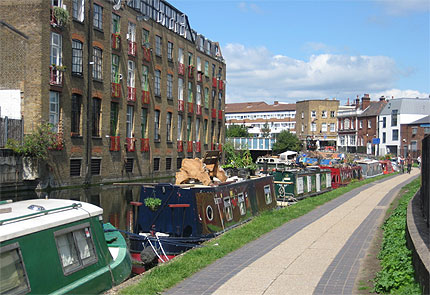 Houseboats on Regents canal – Bistroteque beckons beyond
Posini's
An icy breeze blows us through the door of this nondescript cafe, nestled among the quaint pubs, hairdressers, architects and fashion outlets of Soho. Our wish list is short. If we leave at the very least warmed by a basic yet hearty meal, and still have a few pounds in our pocket, then our visit will have been a success.
Clearly we're not locals, this a workers cafe – the British equivalent of a greasy spoon – but no one bats an eyelid. It's London of the 21st century, everyone's from somewhere else.
The menu is simple but just what we need – toasted sandwiches, soup, and pie floaters all washed down with a hot cup of tea.
Suddenly we're ready to face the cold of the Oxford Street and its' pre-Christmas rush.
The Coal Hole
Like everywhere else in the Empire, the number of places in London you can order a good old Toad-in-the-hole is swiftly diminishing. But  it's great pub food – when else would you attempt to eat anything as disgusting as black pudding, tripe or kidney pie than when you are partially inebriated?
For the uninitiated, and readers with better taste, it's important to understand that gloomy old Blighty has traditionally knocked out dishes that are, by name and sight, designed to disgust any potential diners. A result of "making do" and 20 years of war rations, this collection of stodgy sounding, artery calcifying slop, ensured the words "gastronomy" and "Britain" have remained mutually exclusive until the recent culinary revolution of the naughties. Understandable when there's more mouths to feed than food to go around – no point making food appealing when there's not enough for everyone.
As such, there's really no point writing about the details of a "local" like the Coal Hole. Reviewing one is like reviewing them all. The food is hot 'n' hearty but hardly classy, and as long as the beer flows, no one will notice.
What is it? Ah doesn't matter – we have beer!
Leon
Leon is a London institution. Across a dozen locations each day they serve thousands of Londoners a Mediterranean style of wraps, sandwiches, soups, rice and salads.
For a franchise, each Leon actually feels like a standalone cafe – everything within, from the waft of Moroccan spices to the sunny, framed family photos, take you back to a time and place when young boys jumped from cliffs into warm waters all day, it was OK to wear mustard coloured swimming trunks, and the women all looked like Nana Mouskouri.
I can't wait to return.